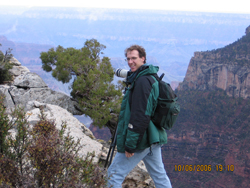 I am a freelance photographer specializing in travel and nature photography. I received my first camera when I was 13, although it was not until I was in college that my passion for photography truly began. Following graduation from college, I embarked on a 15 month journey around the world, traveling and gaining experience as a photographer. Since that time, I have continued to travel and have been truly fortunate to have visited 43 states and 39 countries on five continents.
I grew up on a farm along the Chesapeake Bay and am an ardent land and marine conservationist. The oceans, and coasts occupy a special place for me and much of my photography revolves around life along the sea. I have a master's degree in marine policy and work closely on marine conservation issues. Land patterns and shapes created naturally or by humans, also are heavily represented in my work. As a former student of history, I am awed by some of humanity's most wonderful creations. From the Alhambra to the Taj Mahal to the Great Wall, my photography seeks to capture not only their grandeur, but also the delicate craftsmanship and intimacy of these enduring monuments.
I have also been witness to some of the world's most beautiful and endangered wildlife. With my photography, I try to capture portraits of animals in their natural environment.
Many people who see my work ask me what kind of camera I use, and if I manipulate the images in any way.  Some of the images on this site were shot using Canon 35mm camera bodies and lenses using 35mm slide film, while more recent images were shot with 12 megapixel and 21 megapixel Canon digital cameras and L series lenses.  I do very little post production work with my images.  Most of my time is spent cleaning dust from an image.  The panoramic images have been cropped rather than stitched together, and I do adjust the shadows slightly on some images, however I prefer to capture the scene how it was, not work on it on a computer.
Selected publications include: Cape Cod Life, Cape Codder, Nature Photographer Magazine, Friends of Cape Cod National Seashore Magazine, Browntrout Calendars, Lonely Planet, American Express, and NY Times Online.
I welcome, and look forward to comments on my work.
Thank you